Natural and Moisturizing Men's Face Cream: How to Choose
Well, yes, even men can have sensitive skin and may need a specifically formulated cream. In this article, we will see how to choose it.
The importance of the right face cream for sensitive skin in men
The care of the skin is an increasingly important aspect of men's grooming routines: it's important for men to be attentive and take care of their facial appearance to preserve its health. When it comes to sensitive skin, the choice of the right face cream becomes even more crucial. Sensitive skin is at risk of adverse reactions to the wrong products, which is why it's essential to opt for creams specifically formulated to meet their needs.
In this article, we explore the importance of choosing the right face cream for sensitive skin and provide suggestions on how to do so.
How do I recognize if I have sensitive facial skin?
Sensitive skin is characterized by increased reactivity to both external and internal stimuli, which can lead to irritations and redness. Here are some signs that can help you understand if you have sensitive skin:
How to choose a facial cream for sensitive skin with confidence
When you have sensitive skin, selecting a facial cream requires careful and informed consideration. Here are some tips to help you make the right choice.
1. Avoid creams with heavy and overly fragrant textures 🍇
Do not choose creams with heavy textures or those that are overly fragrant. Creams that are too thick and strongly scented may contain oils or other substances that can be irritating to sensitive skin and may cause redness and reactions. Opt for light creams that absorb easily without leaving the skin oily and that are free from aggressive fragrances.
1. Prefer face creams with soothing ingredients 🍇
Choose face creams specially formulated with soothing ingredients. Ingredients like chamomile or aloe vera are known for their strong soothing and calming properties. These components not only do not irritate the skin but also help alleviate redness and irritations in the case of particularly sensitive skin.
3. Avoid comedogenic creams 🍇
Comedogenic creams can damage your skin. That's why when choosing your face cream, avoid these substances. Comedogenic creams are made with fatty acids, oils, and waxes that create a film on the skin and can clog your pores, leading to breakouts, blackheads, and, in more severe cases, acne. So, choose non-comedogenic creams, avoiding those that contain silicones, parabens, and petrolatum, so the product lets your skin breathe freely.
4. Prefer moisturizing men's face creams 🍇
Hydration is crucial for any skin type, but it's even more important for sensitive skin. Moisturizing creams help maintain the skin's protective barrier and prevent dryness and irritations.
5. Choose a cream that protects your skin from UV rays 🍇
Protecting your skin from UV rays is crucial as it is one of the most harmful factors leading to skin degradation, premature aging, dryness, and, in severe cases, the development of serious skin conditions. Therefore, choose a cream that safeguards your skin from UV rays, even in winter when sunlight may not appear aggressive but still poses a risk. During the colder months, people may not tend to apply sunscreens, but it's advisable to select a facial cream that contains specific active ingredients to counter the damage caused by ultraviolet rays.
6. Choose a natural cream 🍇
The natural approach makes a significant difference if you have sensitive skin. Cosmetics formulated with natural ingredients offer numerous advantages for the health and appearance of your delicate skin. Choose formulations with plant extracts, essential oils, and organic ingredients, avoiding harsh chemicals that could cause irritation. Plant extracts with soothing properties (such as chamomile, calendula, and aloe vera) are known for their calming properties and can help reduce redness, irritation, and itching, providing immediate relief to sensitive skin while hydrating without clogging or irritating pores.

With natural products, you minimize the risk of adverse reactions because there is a lower likelihood that they contain irritating or allergenic substances. By opting for natural cosmetic products, you also make a more environmentally sustainable choice. Natural ingredients are often grown in an eco-friendly manner, with organic farming, and their production is less impactful and harmful to the ecosystem compared to intensive chemical processes.
Why Grapey Total Revitalizer for MEN Cream is a Great Choice
Grapey Total Revitalizer for MEN is specifically formulated for men's skin and stands out as an excellent choice for those with sensitive skin. It is based on a potent extract of grape seed oil, known for its strong antioxidant and moisturizing properties, enriched with panthenol (vitamin B5) and chamomile to address shaving irritations and overall skin sensitivity. Its low viscosity and lightweight texture make it a cream that absorbs easily, ideal for a gentle and beneficial massage.

Grapey Total Revitalizer for MEN is a product derived from organic grapes, possessing natural UV protection, which carefully shields sensitive skin from sun exposure without requiring additional protection in winter.

Grapey Total Revitalizer for MEN is a natural product for 97%, carefully formulated in Italian laboratories and subjected to rigorous dermatological tests by Mérieux NutriSciences (conducted by Dr. Massimo Gola, University of Florence), including patch tests on 20 volunteers with sensitive skin to assess its skin tolerance. The results indicated that the cream had a low irritation impact on the skin, confirming its suitability for 100% even for sensitive skin.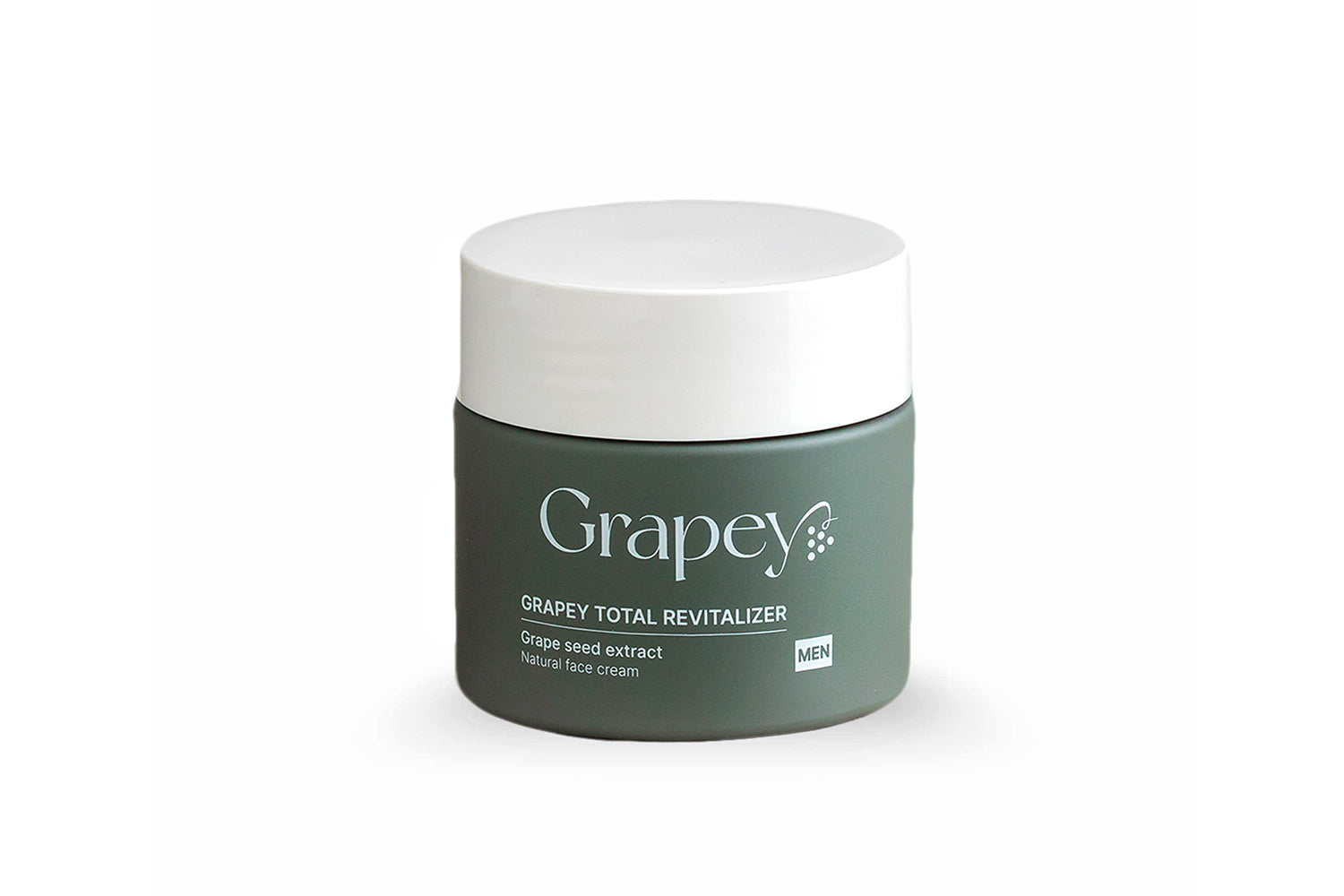 CHOOSE GRAPEY TOTAL REVITALIZER
Conclusions
The choice of a facial cream carefully formulated for sensitive skin is crucial to maintain the health and appearance of the skin. Choosing products formulated with soothing ingredients, lightweight textures, and moisturizing capabilities can make a difference in your beauty routine. Grapey Total Revitalizer for MEN, with its high skin tolerance tested even on sensitive skin, is an excellent solution for men with delicate and sensitive skin looking for an effective, soothing facial cream that is easy to apply.
All you have to do is try it, use it regularly, and rediscover your natural beauty and vitality.
F.A.Q.
The answers to your questions
Is Grapey Total Revitalizer for MEN suitable for sensitive skin?

Yes, Grapey Total Revitalizer for MEN is suitable for all skin types because it nourishes without weighing down. In particular, the cream has undergone specific tests for sensitive skin that have demonstrated its validity at 100%.
When do I see the first results?

Consistency is crucial: with regular applications, both in the morning and in the evening, your skin will be visibly brighter and more vital after 3-4 weeks of use.
How long does Grapey Total Revitalizer for Men cream last?

The cream is light and has low viscosity: if you apply it twice a day, it lasts for about 3 months.
How does the refill work?

You can purchase the refill for Grapey Total Revitalizer cream and reuse the glass jar. This way, you save money and help the environment.