Natural and Moisturizing Men's Face Cream: How to Choose | Grapey
Natural men's face creams are gaining increasing popularity due to their numerous long-term skin health benefits. Let's say it upfront: opting for products formulated with natural-derived ingredients makes a significant difference for your skin. In this article, we'll explore why choosing natural men's face creams is essential for an effective skincare routine for both you and the environment.
Why natural men's face creams are an excellent choice
One of the distinctive qualities of natural creams is their ability to work in harmony with the skin's physiology. Natural ingredients derived from flowers or plants are rich in compounds easily recognized and assimilated by the skin. This translates to greater effectiveness in providing hydration, nourishment, and protection.

Furthermore, the absence of aggressive chemical components reduces the likelihood of adverse reactions, making natural creams suitable for a wide range of skin types, including sensitive ones. In short, natural face creams are safer because, while highly effective, they tend not to cause adverse skin reactions. Additionally, their environmental impact is more limited.

If you've read this far, you're looking for a natural face cream. Here's how to go about it.
How to Choose a Natural and Moisturizing Face Cream in 5 Steps
When it comes to choosing the right natural and moisturizing face cream, there are some key steps to consider. Here's a five-step guide to help you make an informed and effective choice for your skin, harnessing the power of nature to the fullest.
How to Choose a Rejuvenating and Anti-Wrinkle Men's Face Cream
1. Read the ingredients carefully: they should be truly natural 🍇
Before purchasing a face cream, it's essential to carefully read the ingredient list. Check that they are genuinely natural, such as plant extracts, vegetable oils, and natural butters. Avoid products that contain synthetic ingredients, like silicones, which are used to provide a silky skin feel but can create an external surface that prevents the skin from breathing and may clog pores (leading to blackheads and acne). And be aware: you can do this even when shopping online - look for the ingredients in the product descriptions.
2. Choose a men's face cream with a lightweight texture 🍇
Natural men's face creams often have a lightweight texture that absorbs easily. Opting for a lightweight texture is important, not only for those with sensitive skin but also because it reduces the risk of pore blockage and unwanted skin reactions. It also provides a sense of freshness and hydration without feeling heavy. A lightweight cream is easy to apply, is suitable for beneficial massages, and absorbs quickly, leaving the skin fresh and moisturized.
3. Creams that also provide UV protection are the best 🍇
A natural face cream that provides UV protection is a smart choice for your skincare routine. Harmful sun rays can cause premature aging, including the early appearance of wrinkles, and even more severe damage, such as skin cancer. Look for natural products that counteract the effects of harmful UV rays and are equipped with natural sunscreens, such as zinc oxide or titanium dioxide, or grape extracts that have a natural UV protection property.

Choosing natural products with UV-fighting actives means selecting products that protect the epidermis safely, without resorting to harmful chemicals. Most importantly, it means being protected even in winter when we often forget to shield the skin with specific sunscreen creams. UV rays can penetrate through clouds!
4. Prefer creams without parabens, sulfates, and other artificial ingredients 🍇
I parabeni sono dei conservanti artificiali. Il loro inserimento nella formulazione delle creme può portare al rischio di sviluppare reazioni allergiche e irritare la pelle sensibile e causare reazioni allergiche. I solfati sono emulsionanti ma in quantità eccessive possono causare secchezza della cute, ipersensibilità e irritazioni.
Scegli creme viso per uomo naturali che siano prive di questi ingredienti nocivi.
Optare per formule prive di sostanze chimiche aggressive contribuirà a mantenere la tua pelle sana, naturalmente luminosa e ben curata.
5. Prioritize sustainability 🍇
Adopting natural face creams can be an essential part of an overall healthy and conscious lifestyle. Choosing natural products reflects a commitment to taking care of oneself responsibly and respectfully, which can positively impact overall well-being and self-confidence.

In addition to the benefits for your skin, also consider the environmental impact of the cosmetic products you choose. Choosing natural face creams has an immediate positive effect on the surrounding environment. Opting for products formulated with sustainable and biodegradable ingredients helps reduce the impact on the ecosystem. In an era where sustainability is crucial, this choice reflects a stance of respect for nature.

Switching to natural men's face creams, ideally produced from organic farming, will help reduce the environmental impact. Look for brands that use natural active ingredients and recyclable packaging, biodegradable ingredients, and responsible production practices.

At Grapey, we've decided to launch an entire line of products formulated from winemaking by-products to give new life to grape pomace and limit its environmental impact, all while harnessing its powerful natural properties. 🍇
Why Grapey Total Revitalizer for MEN Cream is right for you
Grapey Total Revitalizer for MEN is an exceptional face cream that combines the power of natural grape-derived ingredients with a targeted formulation for male skin. Enriched with grape seed oil extract, as well as vitamin B5 and chamomile, this cream provides a soothing and moisturizing solution for all types of men's skin, including the most sensitive.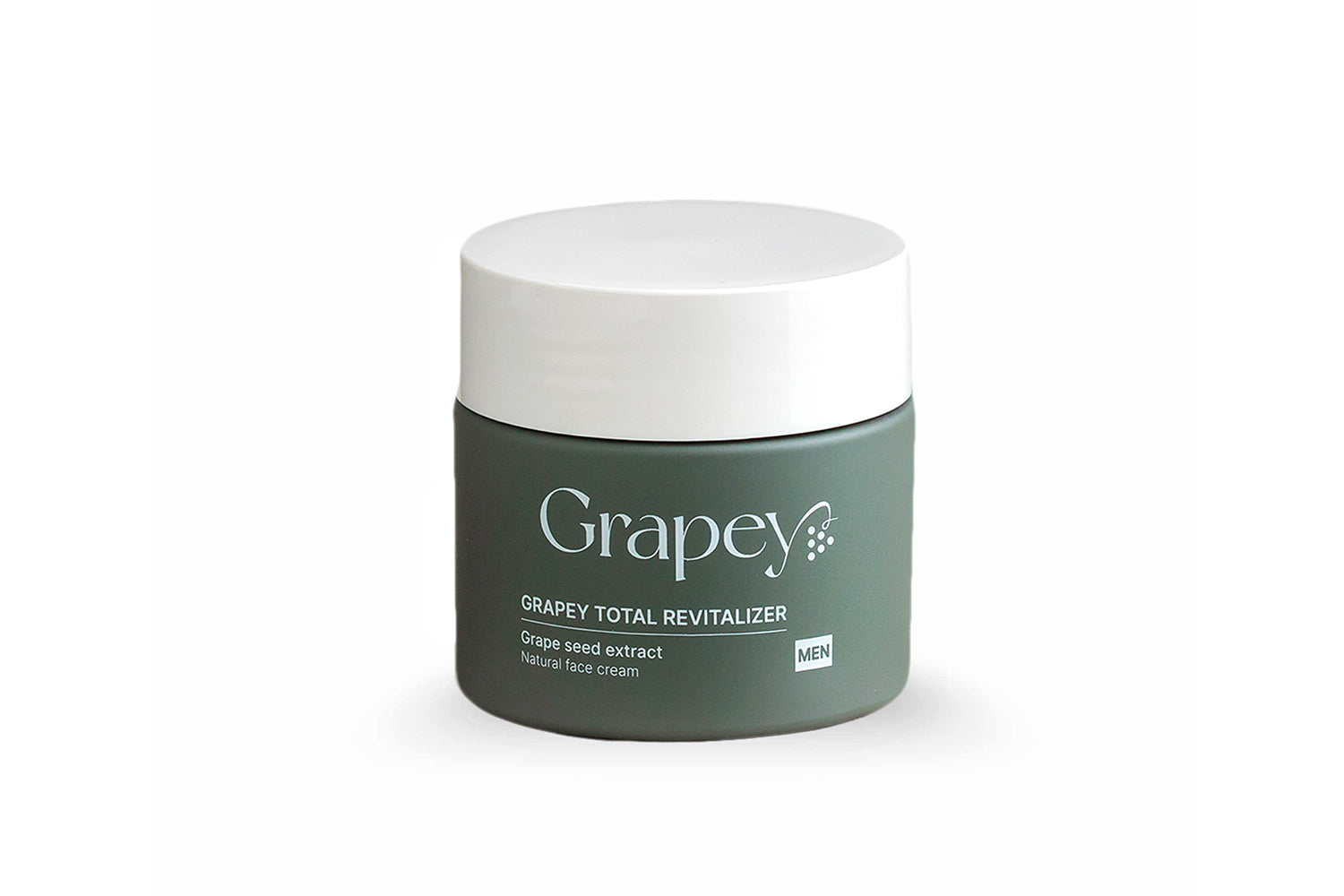 TRY NOW GRAPEY TOTAL REVITALIZER FOR MEN
Why choose a natural cream?
Choosing a natural and moisturizing face cream is a positive decision for both your skin and the environment. Natural men's face creams not only offer lasting benefits for the health and appearance of your skin but also demonstrate your commitment to environmental sustainability. By selecting active ingredients formulated with natural-derived components, you do good for your skin and the nature around us.

Grapey Total Revitalizer for MEN is an excellent example of how effectiveness, naturalness, and sustainability can be combined into one product. Its formulation based on natural grape-derived ingredients makes it a advantageous choice for those seeking a high-quality natural and moisturizing face cream.

Choose Grapey and make a conscious choice for your skin and the environment.
F.A.Q.
The answers to your questions.
What skin types is Grapey Total Revitalizer for MEN suitable for?

Grapey Total Revitalizer for MEN is suitable for all skin types because it nourishes without weighing it down. It is particularly perfect for normal, oily, and combination skin. Furthermore, it has passed all clinical tests for sensitive skin.
How long does it take to see the first results?

Consistency is key: with regular applications in the morning and evening, your skin will become visibly brighter and more vital after approximately 3-4 weeks of use.
How long does Grapey Total Revitalizer for Men cream last?

The cream is lightweight and has low viscosity: if you apply it twice a day, it lasts for about 3 months.
How does the refill work?

You can purchase the cream refill and reuse the glass jar. This way, you save money, and the environment thanks you.