Grapey Anti-Age
Antioxidant Face Cream for Perfect Skin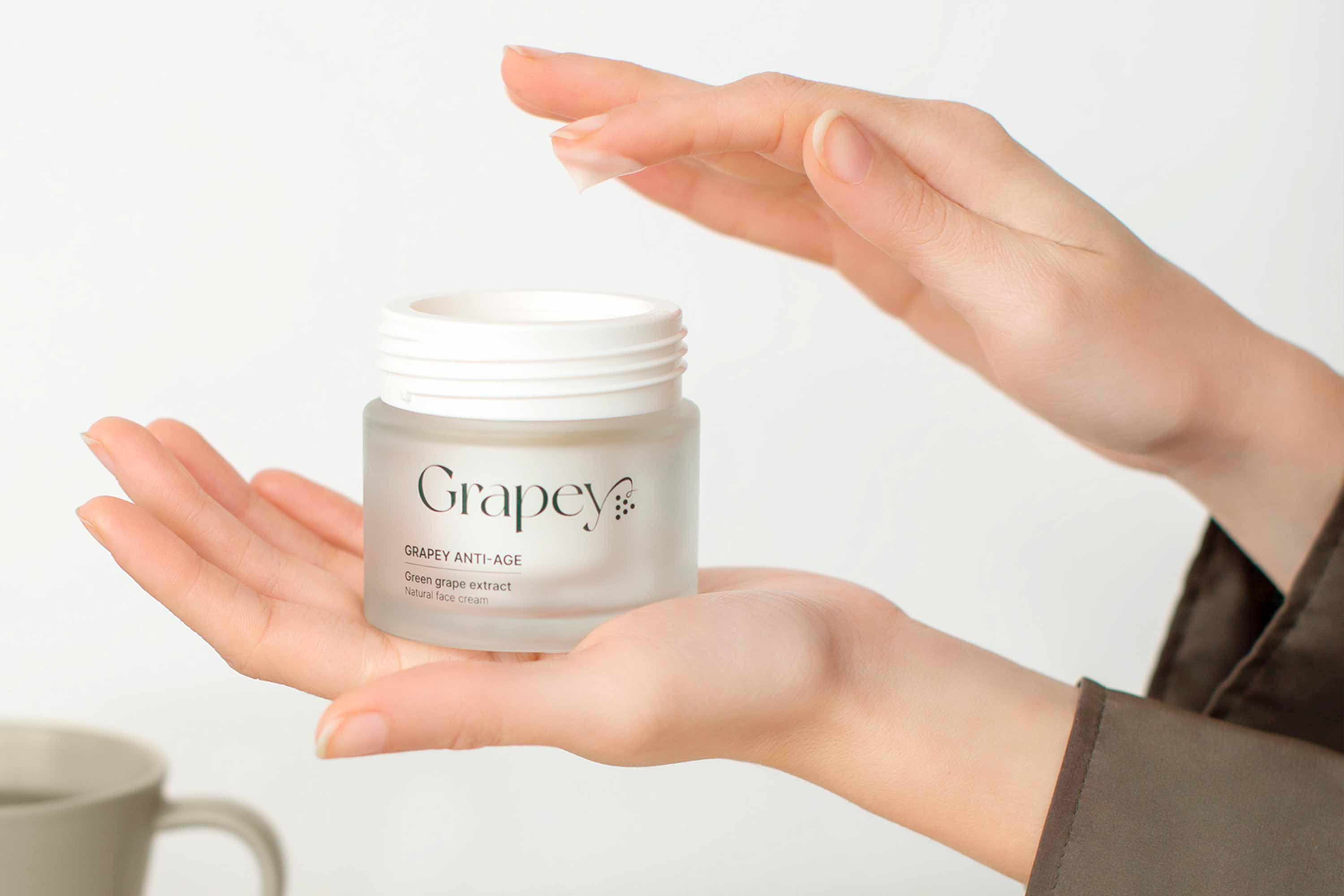 The secret to youthful and radiant skin is within reach for everyone, thanks to Grapey Anti-Age the cutting-edge antioxidant and anti-aging face cream. Let's explore the incredible properties of grapes and discover a face cream that's revolutionizing skincare. You'll learn how Grapey Anti-Age, with its powerful combination of polyphenols, unripe grape stem cells, and hyaluronic acid, is your ally in achieving naturally youthful and radiant skin. Don't miss this comprehensive guide to maintaining your skin's youthfulness and radiance over time.
Rejuvenate your skin.
The quest for the perfect face cream is a mission for us at Grapey. Who doesn't desire glowing, elastic, and visibly younger skin? Thanks to our laboratory research, we have created Grapey Anti-Age, an advanced antioxidant and anti-aging face cream.
Secrets of Grapey Anti-Age
Beauty starts with healthy skin, and Grapey Anti-Age is designed to provide perfectly healthy skin. This cream is formulated with carefully selected ingredients to ensure amazing results. It's completely natural, made from organic grapes, which are rich in active ingredients.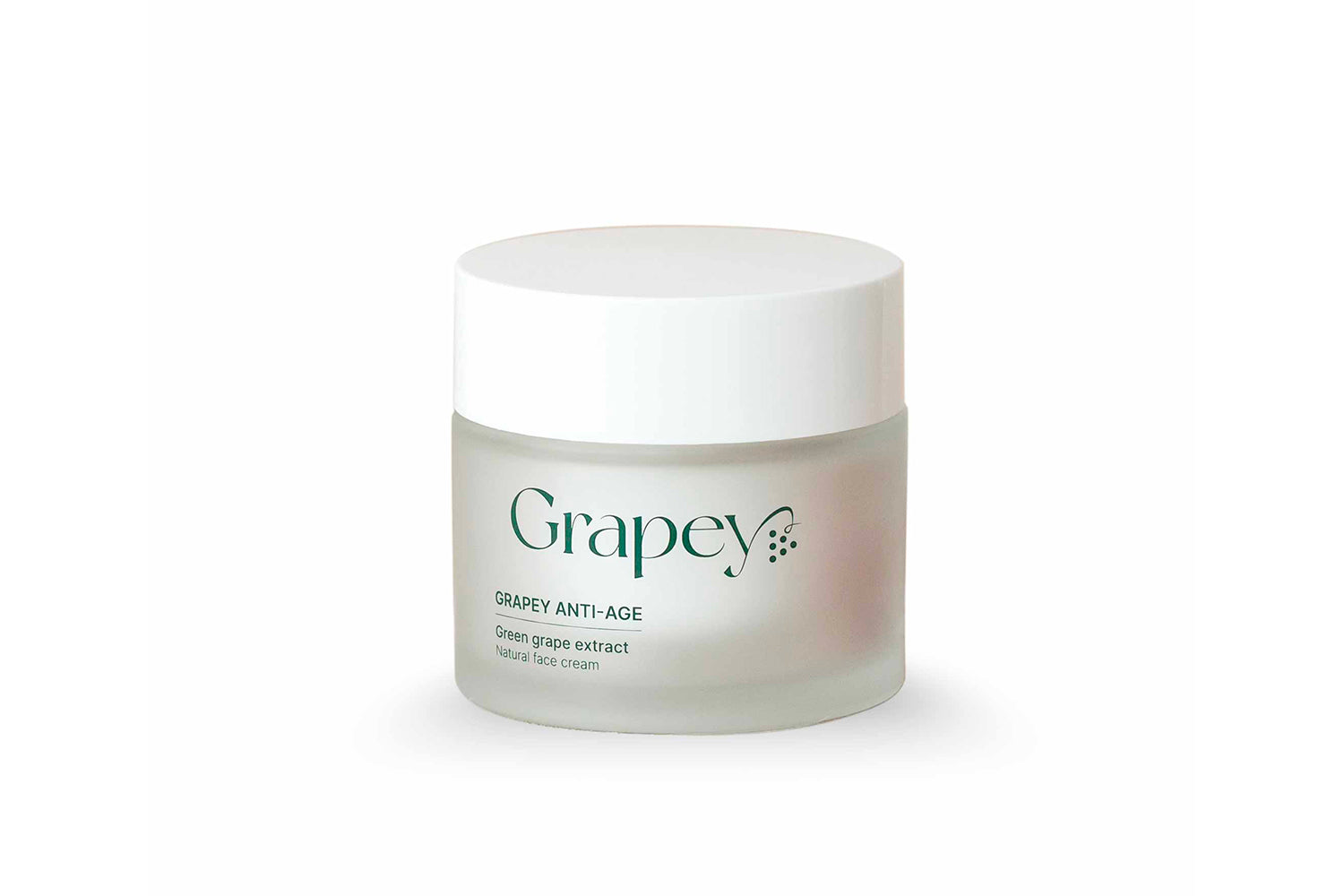 CHOOSE GRAPEY ANTI-AGE
Potent antioxidants
One of the strengths of Grapey Anti-Age is its rich content of antioxidants. These substances fight free radicals, the main culprits of skin aging. Thanks to a powerful cocktail of antioxidants, this cream protects your face from environmental damage, helping to prevent the formation of wrinkles, age spots, and loss of elasticity. But that's not all! Grape polyphenols repair DNA and regenerate the skin from the inside, targeting expression lines and wrinkles.

But how quickly can you see results? Laboratory tests show that with consistent application, you can begin to notice improvements in your skin within a few weeks of regular use of Grapey Anti-Age (approximately 3 weeks). Consistency in application is crucial to getting the most benefit from the cream, which should be applied morning and evening, preferably with a prolonged massage.
Unripe Grape Stem Cells
Why is Grapey Anti-Age so effective? The key ingredient is the unripe grape stem cells in its innovative formula. Unripe grape stem cells, which stimulate the production of powerful polyphenols, work in synergy with your skin, stimulating collagen production and improving skin elasticity, making it firm and reducing wrinkles.
Ingredients Naturals for Perfect Skin
Grapey Anti-Age contains other natural ingredients: a phyto-complex of organic red grape skins, grapeseed oil, as well as tomato and blueberry oil. These additional ingredients work together with the stem cells from unripe grapes to provide hydration and protection against UV rays and pollution, preventing environmental damage. Tomato and blueberry oil, in fact, have very effective specific natural properties: they protect the skin's keratinocytes from the harmful effects of ultraviolet rays and pollution, preventing and countering skin aging.
Science at Your Service
The secret of Grapey Anti-Age's success lies in its careful formulation and the use of natural active ingredients. Antioxidants such as polyphenols extracted from grapes are known for their extraordinary ability to fight free radicals, the main culprits of skin aging. But there's more: the young grape stem cells, the protagonists of this formula, stimulate collagen production, significantly improving skin elasticity and visibly reducing your wrinkles. It's a combination of thoughtfully formulated natural ingredients that come together to offer you the maximum benefit for your skin in a completely natural way.
How to use Grapey Anti-Age for the best results?
To achieve the best results with Grapey Anti-Age, follow the usage instructions and tips detailed in the package. Clean your face thoroughly and then apply the cream in small amounts, massaging it gently into the skin. Take another small amount of the cream and apply it with a prolonged massage, starting from the lower part of your face to your forehead, focusing on expression lines; gently tap around the eye area. Regularly applying Grapey Anti-Age morning and evening, is the key to achieving visible results quickly. Thanks to this powerful combination of antioxidants and grape stem cells, Grapey Anti-Age delivers extraordinary results in the fight against skin aging. Your skin will appear younger and radiant with each application: fewer visible wrinkles, a firmer complexion, luminous, toned, and revitalized skin.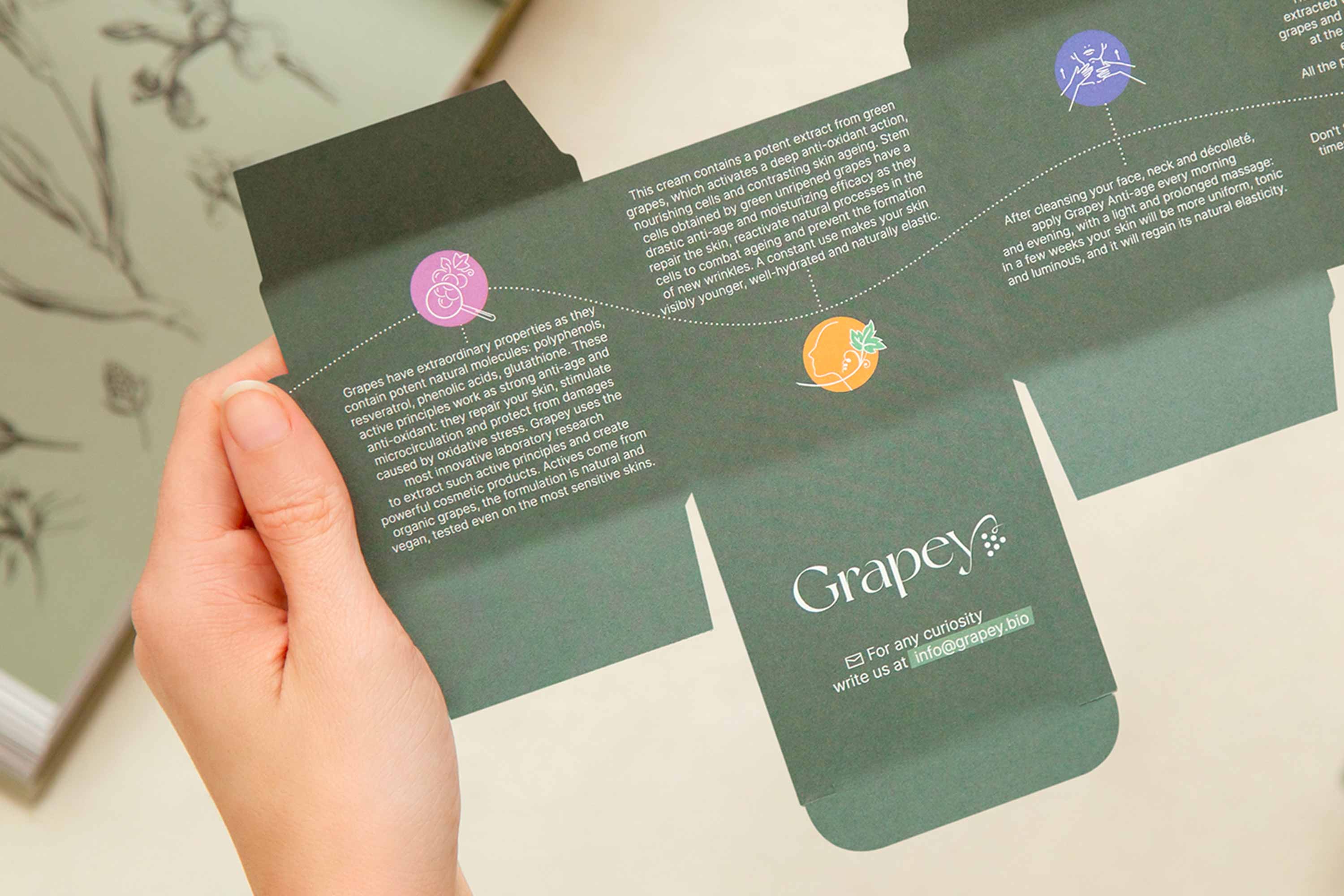 What do those who have tried it think?
But what do those who have already tried Grapey Anti-Age think of it? Let's hear from those who have experienced the benefits of Grapey Anti-Age. Here is the testimonial of Anna, a 38-year-old woman who has been using Grapey Anti-Age in her beauty routine for months.

"I had always dreamed of keeping my skin radiant and youthful, but after turning 35, my face started to show deeper wrinkles. I discovered Grapey Anti-Age, and I fell in love with it. My skin is smoother, wrinkles are visibly reduced, and I feel more confident. Plus, it's light and has an irresistible fragrance that brightens my mood every day."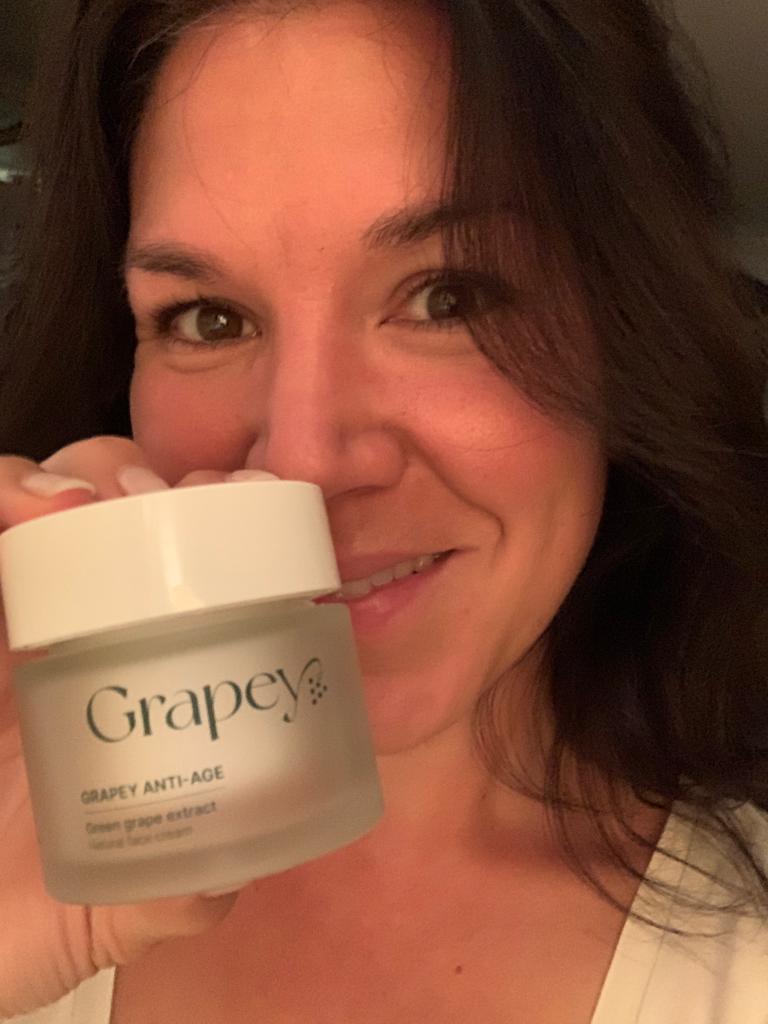 And what about more sensitive skin?
Let's say it clearly: those with sensitive skin cannot afford to use the wrong cream or further irritate it with the wrong products. That's why we've chosen to use organic active ingredients that have a positive impact on the skin, and we perform rigorous tests to certify that the cream is suitable for sensitive skin. Grapey Anti-Age is also suitable for the most delicate skin. It has undergone rigorous clinical tests and is formulated to provide maximum effectiveness without irritating the skin. You can use it knowing that you are giving your skin the treatment it deserves. Fight the Aging Process of Your Skin Grapey Anti-Age is more than just an anti-aging cream: it's a defense against time. Skin aging is a natural process that no one can escape, but the good news is that there are very effective methods today to counteract it. Grape seed polyphenols, combined with the regenerative properties of grape stem cells stimulated by unripe grapes, work together to repair skin damage and stimulate the production of collagen and elastin. Grapey Anti-Age not only fights the visible signs of aging but also works deep within to keep your skin healthy.
Long-Term Results
We care about this a lot: Grapey Anti-Age doesn't just promise results in a few weeks, but it's designed for lasting change. When you apply this cream consistently and follow the instructions, you'll start to notice significant improvements in your skin within a few weeks. But what truly makes it exceptional are the long-term results. By continuing to use Grapey Anti-Age in your skincare routine, you can keep your skin young and radiant for years to come. It's a beauty promise we make at Grapey.
Adjust to a healthy lifestyle
The beauty of your skin depends not only on the products you use, as excellent as they may be, but also significantly on your lifestyle. To get the maximum benefits from Grapey Anti-Age, adopt a healthy lifestyle. This includes:

- A balanced diet rich in antioxidants (read: fruits and vegetables).
- Consistent hydration to keep your skin supple (drink at least 8-10 glasses of water a day).
- Sunscreen protection to shield your skin from UV damage.
- Sufficient sleep hours to regenerate the skin.
- Stress management through sports and yoga.
- Minimizing or avoiding smoking, even passive exposure.

By combining all of this with regular use of Grapey Anti-Age, you have the winning formula for perpetually youthful, firm, and healthy-looking skin.
Where to buy Grapey Anti-Age
If you want to experience the benefits of Grapey Anti-Age, you're just a step away from doing so. You can purchase our cream directly from our official Grapey website. With a simple click, you'll have access to a product that can revolutionize your beauty routine, and it will be delivered to your doorstep within 3 days.
Choose Grapey Anti-Age's Timeless Beauty
Grapey Anti-Age is much more than just an anti-aging cream. It's a promise of natural and ageless beauty, a solution that combines powerful antioxidants and stem cells from young grapes for vital and radiant skin. If time doesn't stop, you can take control of your beauty today. Each application of Grapey Anti-Age is a significant step towards visibly younger skin. Choose Grapey Anti-Age and start your journey to achieve a radiant and vital face.
START TODAY!
FAQ
Answers to your questions
What skin types is Grapey Anti-Age suitable for?

Grapey Anti-Age is suitable for all skin types because it nourishes without weighing it down. It is particularly ideal for normal, oily, and combination skin. Moreover, it has passed all clinical tests for the most sensitive skin.
How long before I see the first results?

The results can also vary depending on lifestyle and consistency of use, but most people report visible improvements after 3 weeks of consistent use.
How long does Grapey Anti-age cream last?

The cream is light and has low viscosity: if applied twice a day, it lasts for about 3 months.
You can purchase the refill of Grapey Anti-Age e riutilizzare il vaso in vetro. In questo modo tu risp and reuse the glass jar. This way, you save money and help the environment.
Is it safe to use Grapey Anti-Age on sensitive skin?

Yes, Grapey Anti-Age has been clinically tested on even the most sensitive skin and has proven to be gentle and effective for all skin types.
Can I use Grapey Anti-Age as a makeup base?

Absolutely, Grapey Anti-Age works well as a makeup base with its lightweight texture, helping protect and prepare your skin for even and long-lasting coverage.
Do I need to use other creams in addition to Grapey Anti-Age?

No, Grapey Anti-Age is effective on its own. If you need extra hydration, you can apply a second, small dose. In the summer, when you're exposed to the sun, use sunscreen during the day. In all other seasons, when you're not exposed to direct sunlight, Grapey Anti-Age protects your skin from the harmful effects of UV rays due to the natural properties of grapes (the same properties that protect grapes from the sun).
Is Grapey Anti-Age suitable for women of all ages?

Yes, Grapey Anti-Age is suitable for women of all ages who want to maintain youthful and radiant skin, from those starting specific facial treatments around the age of 20 to those who need to address the signs of aging, and of course, those who want to preserve their natural beauty.